European Doctors Orchestra - making music for a good cause
We are an orchestra made up of doctors from across Europe.  We perform two public charity concerts a year, aiming to promote the public's understanding in the performance and appreciation of music, and also to benefit other charity projects (usually related to health and well-being).  The orchestra's winter meeting has traditionally been in the UK; most recently in The Cadogan Hall, London (2012, 2014, 2015), Birmingham Town Hall (2013), The Sage, Gateshead (2011), and Edinburgh (2010). The summer meeting is in a non-UK city, in June. So far, the orchestra has played in Romania (Bucharest, 2005), Hungary (Budapest, 2006 and 2016), Italy (Verona, 2008), Poland (Poznan, 2009), Norway (Oslo, 2011), Germany (Berlin, 2007 and 2013), Switzerland (Bern, 2014) and Slovenia (Ljubljana, 2015).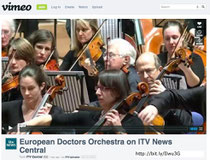 The orchestra's 2013 performance in Birmingham attracted significant media attention.  This @ITVCentral video by @andybevanitv gives a brilliant introduction to the European Doctors Orchestra, including profiles of violinists Louise Remedios (GP) and Ruth Lester (Surgeon), and introduces the charity which we supported - the Children's Hand and ARMs charity (C.H.A.R.M.S.) based @Bham_Childrens (Birmingham Children's Hospital).
Connect with us...
Twitter
Loading Twitter messages...
Like us on Facebook & Google+
Registered charity number: 1154799
The European Doctors Orchestra aims to promote, improve, develop and maintain public education in the performance and appreciation of music, by the presentation of public concerts and recitals, and to further the work of other charitable organisations involved.