European Doctors Orchestra - making music for a good cause
We are an orchestra made up of doctors from across Europe.  We perform two public charity concerts a year, aiming to promote the public's understanding in the performance and appreciation of music, and also to benefit other charity projects (usually related to health and well-being).  The orchestra's winter meeting has traditionally been in the UK; most recently in The Ulster Hall, Belfast (2017), The Sage, Gateshead / Newecastle (2011, 2016), The Cadogan Hall, London (2012, 2014, 2015), Birmingham Town Hall (2013), and Edinburgh (2010). The summer meeting is in a non-UK city, in June. So far, the orchestra has played in Romania (Bucharest, 2005), Hungary (Budapest, 2006 and 2016), Italy (Verona, 2008), Poland (Poznan, 2009), Norway (Oslo, 2011), Germany (Berlin, 2007 and 2013), Switzerland (Bern, 2014), Slovenia (Ljubljana, 2015), and the Netherlands (Rotterdam, 2017).
The 2013 @ITVCentral video by @andybevanitv provides an excellent introduction to the European Doctors Orchestra and our longstanding work...
Please do get in touch with any enquiries.  Our section organisers are keen to hear from new potential players across Europe. Our trustees and local event organisers are also interested to hear from anyone interested in collaborating with us or sponsoring our work.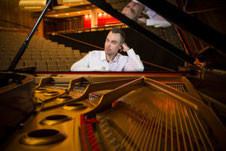 Nicholas McCarthy, who will perform at the concert, was born in 1989 without his right hand and only began to play the piano at the late age of 14. Having once been told that he would never succeed as a concert pianist, Nicholas would not be discouraged and went on to study at the prestigious Royal College of Music in London. In 2012 he became the only one-handed pianist to graduate from the college in its 130-year history and this year he has been awarded honorary membership of the college by its President, HRH The Prince of Wales.
Nicholas commented on the upcoming concert: "I'm delighted and proud to be performing the Ravel Piano Concerto for left hand with the EDO to raise funds for a charity very close to my heart. As an ambassador for OHMI, I have seen first hand the amazing work they do in enabling music for the physically disabled with incredibly innovative adaptations for a wide range of instruments. The Ravel Piano Concerto was composed for a one-handed pianist who had lost his arm fighting in the First World War; I will be performing this work with the thought that the proceeds will enable today's generation of differently abled people to find their way into music."
(Picture by Paul Marc Mitchell).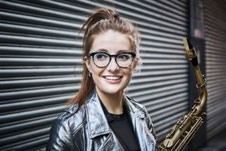 The concert also features remarkable young musician, Jess Gillam, who was the first saxophonist to win the Woodwind final of BBC Young Musician of the Year. She will play a transcription of the baroque D minor Oboe concerto, accompanied by members of the orchestra, commenting: "I am really looking forward to performing a transcription of Marcello's Oboe concerto with the EDO! The piece is in three movements and I think works fantastically well on soprano saxophone. The second movement will be familiar to many and is stunningly beautiful. The first and third movements are both very characterful and lively. It is a real honour to be a part of this event to support such a fantastic charity and I am sure it is going to be a very enjoyable evening."
(Picture by Kaupo Kikkas).
Our concert on Sunday 3 June presents a varied and interesting programme under the direction of professional conductor, Simon Wright. From Walton's triumphant Spitfire and Fugue to Elgar's Enigma variations, there is much to enjoy in this musical journey!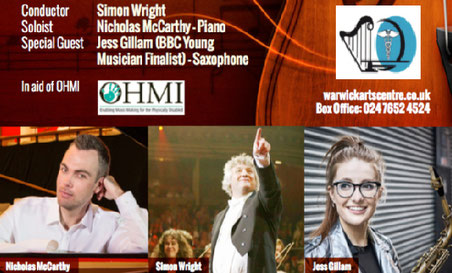 Join us for an afternoon of music making at The Warwick Arts Centre on 3 Jun.  Details here!
Connect with us...
Twitter
Loading Twitter messages...
Like us on Facebook & Google+
Registered charity number: 1154799
The European Doctors Orchestra aims to promote, improve, develop and maintain public education in the performance and appreciation of music, by the presentation of public concerts and recitals, and to further the work of other charitable organisations involved.