University of Warwick - Sunday 03Jun18 (3pm)
Warwick Arts Centre
The European Doctors Orchestra
Simon Wright conductor
Nicholas McCarthy piano
Jess Gillam saxophone  
Walton: Spitfire Prelude and Fugue
Butterworth: The Banks of Green Willow
Ravel: Concerto for Left Hand
Marcello: Oboe Concerto transcribed for saxophone  
Elgar: Enigma Variations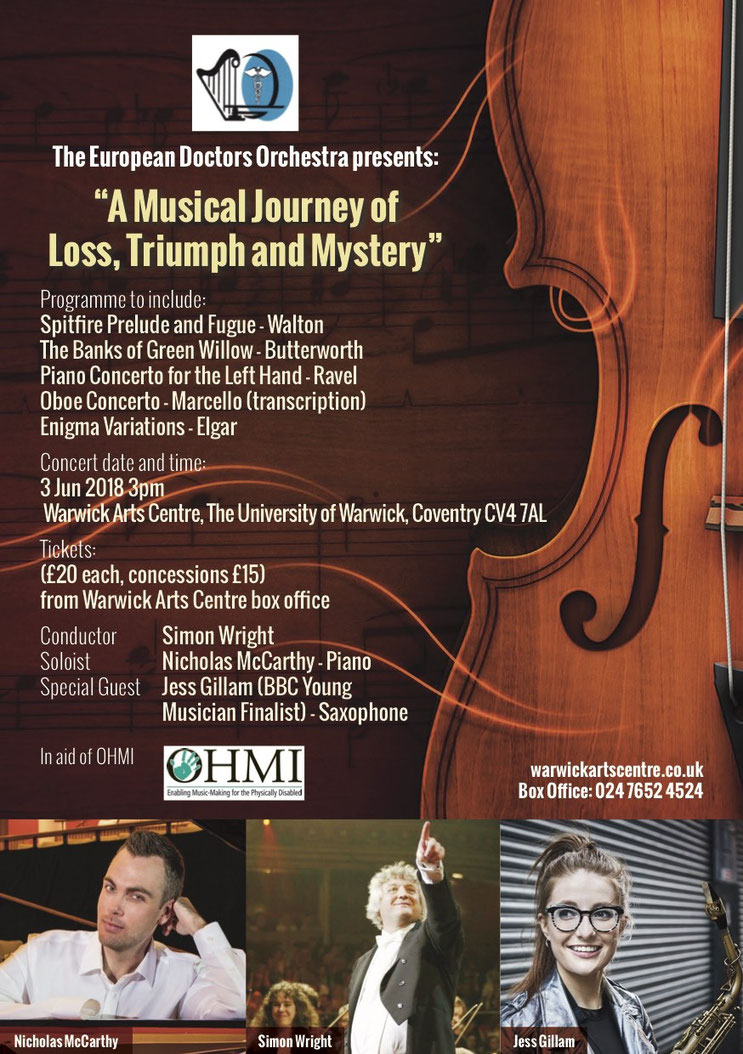 Our next concert will be in the Warwick Arts Centre, University of Warwick, COVENTRY on Sunday 3rd June 2018 at 3.00 pm.
We are pleased to be conducted once again by Simon Wright who last worked with the orchestra in 2013.  We are also delighted to have two superb young soloists for this concert: 
Nicholas McCarthy will be the piano soloist in Concerto for Left Hand by Ravel, and saxophonist Jess Gillam will perform a transcription of an Oboe Concerto by Marcello.
The concert begins with the Spitfire Prelude and Fugue by Walton, and The Banks of Green Willow by Butterworth. The final work will be the ever popular Enigma Variations by Elgar.
EDO is proud to be supporting OHMI, enabling music making for the physically disabled.
Concert flyer pdf
Concert flyer pdf
Final final EDO Flyer Coventry 2018.pdf
Adobe Acrobat Document
911.6 KB